A reminder of the importance of social security
The coronavirus has seriously shaken things up. Several months after the start of the outbreak, it has become difficult to imagine the period before the lockdown. That was a time when people still greeted each other by shaking hands or even kissing, when we still met at a café or restaurant, and when we were able to enjoy a live performance, football match or play. Unfortunately, we cannot do any of these things at the moment, but of course these inconveniences are nothing compared to what COVID-19 patients, caregivers and the friends or relatives of victims have had to endure. Yet the COVID-19 pandemic has also had a positive effect. The awareness that social security is crucial has been growing everywhere. To ensure that the momentum is maintained, ACV has launched a campaign to strengthen our social security system. In this article, we will discuss it in detail and share testimonials from blue-collar and white-collar workers as well as executives who have become (more) conscious of the importance of a social safety net.
Strengthening the social security system after the coronavirus crisis
"Never before in recent history has the value of social security proved been so obvious," says Sandra Vercammen, general coordinator of ACV Kader. There are numerous examples of this. The applause for health professionals is also a sign of support for the system as a whole. We have relied on the government in great numbers to keep our heads above water or absorb the financial shock to a greater or lesser extent. Compensation for loss of income softens the blow for the self-employed and business owners. Temporary unemployment and coronavirus parental leave make the difference for countless employees.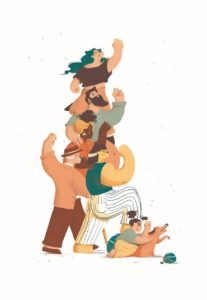 "Social security has suddenly become highly visible and tangible," Sandra continues. "More than ever, it connects people from different backgrounds, as we are all in the same boat. We want to support this widespread appreciation for the social security system and make sure it does not ebb away soon." With this aim in view, ACV launched a campaign to strengthen the social security system in May. Via Puls Magazine, the membership magazine of ACV Puls, posters were distributed to highlight the importance of social security. We asked every member to put up the posters in prominent places, and they now adorn countless windows and doors throughout Flanders. These lovely posters are also displayed on notice boards at companies to draw attention to the issue.
Of course, the timing of this campaign is no coincidence. "Once the coronavirus crisis is over, social security will remain a necessity, not least because we will feel the impact for a long period of time," Sandra explains. It is in everyone's best interest that the government continues to invest in healthcare and a social safety net. Admittedly, this is costly, but recent events have shown that it is well worth the investment. Social security has protected our people and our economy from much worse consequences. Those who want to cut social security spending had better think twice and take a look at other countries where this shock absorber is lacking or much smaller."
Want to know more about the campaign? Then have a look at
www.acv-puls.be.

What has changed for Mieke, Jannie and Lies
Everyone has been affected by the COVID-19 crisis, and government support has been most welcome for many Belgians. Mieke, Jannie and Lies share their experiences of the past few months.
Mieke (41, manager at an advertising agency): "Over fifteen years ago, I started out as a project assistant at a communication agency, changed jobs every couple of years and eventually became manager of a sizeable team. I love my job, but in our industry everything revolves around the figures. When our activities took a nose dive a few weeks into the lockdown, the temporary unemployment system was a real lifesaver for me and my colleagues. I had never received unemployment benefits before, but layoffs would have been inevitable without this option. I definitely see the point of social insurance."
Taking coronavirus parental leave has been a great help for Jannie (36). "Working from home is not always easy in the banking sector. Since our IT networks are highly secured, there are few tasks we are allowed to carry out from home. As soon as the schools closed, my husband had to take care of our children on his own – and this situation lasted for several weeks. Especially with the increased allowance, the possibility of taking coronavirus parental leave has been a great solution for us."
Lies (34, copywriter at a communication agency): "The coronavirus crisis has caused a lot of our customers to spend their advertising budget more prudently, as a result of which we saw a decrease in our workload. Fortunately, we have been able to fall back on the system of economic unemployment. Most of my colleagues have been forced to make use of this system for two days a week over the past few months. Our industry is quite hard, and I think very few members of our team had ever considered the importance of support measures, let alone the possibility of ever relying on these measures themselves. But the crisis has been a wake-up call and has made everyone experience how crucial a social safety net actually is. In addition, we did not really have a teleworking culture, but now the management also realises that it works perfectly well and that it may benefit the work-life balance.


Lots of questions from our members

Over the last couple of months, our inbox has been flooded with messages from members who have been hit unexpectedly hard by the coronavirus crisis. We have received countless questions from blue-collar and white collar workers as well as executives, and would like to share some of these with you. We hope to demonstrate that you are not alone in this crisis. In addition, these messages may inspire you to share your concerns with us. Do not hesitate to contact us!

"I work at PC 200 and am temporarily unemployed due to the coronavirus crisis. What arrangements have been included in the CLA with regard to hospitalisation and collective insurance, the Christmas bonus and profit participation in case of temporary unemployment due to the coronavirus?"

"Hi, I'm in charge of three retail businesses. Our company will soon reopen, but the managers want to keep several colleagues on the dole a little longer. Is that allowed? And if so, for how long? Does a particular percentage need to get back to work? Thanks in advance!"

"Good morning, I work as a consultant and fell ill at the beginning of April. I have just received my payslip and I have noticed that do not get any pay from my employer for my sick days. The payslip states: 88 hours of sickness 'during temporary unemployment'. The client I'm currently working for did not at any time deny me access and my employer did not inform me at all about my temporary unemployment. I only learnt about it when reading my payslip. Is my employer allowed to do so? And if this is allowed legally, how can I receive wages or benefits for those days? Thanks in advance!"

"Hi, due to the coronavirus crisis I have been working from home full-time for nearly two months. I have learnt that the employer can pay an allowance for office-at-home costs (www.rsz.fgov.be). Is this an acquired right? I work as a legal professional at an estate agency (building management sector). Thank you for your reply."

"First of all I want to thank you for your hard work in this period! My employer applied for temporary unemployment from 13 March onwards, but since then we have had several online meetings about the situation and approach (so far, five hours in total) and he also expects us to follow up on our emails and phone calls on a daily basis. We do not receive any pay for this. Does this comply with the rules? Thanks in advance!"

"As an executive, I work full-time. Due to the exceptional coronavirus circumstances, my salary has been reduced by 25% at the request of my employer. Is that allowed?"

Do you have any questions? Feel free to contact us at acv-kader@acv-csc.be or via the contact button at www.hetacv.be.